Posted on: December 20, 2015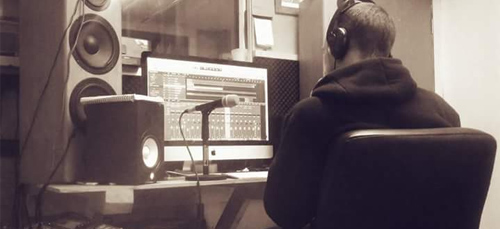 So yesterday we had the pleasure of spending the day at The Fuelled By Cider Studio with James recording our new single. I think it's safe to say that we had an awesome day and really enjoyed the DIY feel! James knew exactly how to work with us and did a great job.
The day started with a few hangovers, as our recording days usually do! But once we finally found the studio in deepest, darkest Somerset we were very happy to get to work. The day went very smothly and we came away with something we were happy with. It was a long day but more than worth it! Although it was a long day for us all we'd like to make a special mention to our new drummer Rob for filling in on bass last min and smashing it!
Then it was time to find some food… So we took to the road, down the EXTREMELY dark lanes and after at least 300 left turns, getting stuck in a very large puddle for a moment and honestly feeling like we were in the beginning of an awful 2 star horror movies we found a lovely little pub called "The Bell Inn". Food was great and the staff were very welcoming, if you can find the place we strongly suggest you stop in for a bite!
So now it's time to move onto all the technical bits and bobs of making everything sound sweet and we'll be back to you with some tasters before the release in the new year!
Leave a Reply