Posted on: January 20, 2016
Hi folks!
So we've been busy working on our single and cannot wait to be able to show you our debut music video that we have been working on with our label, Fuelled By Cider.
Just before Christmas we went to The Fuelled By Cider Studio to record our single with James. We had a great day and managed to get the track down in one day!
Here is a little video of the day –
Since then we've also had an amazing day filming the video at The Butler in Reading which, although it was FREEZING COLD, was really fun and an awesome new experience for us all. We've like to say a big thanks to all the Fuelled By Cider boys for helping us to push our sound to a wider audience and we're really looking forward to working with them on the album and moving forward into 2016!
Here is a screen shot from the video –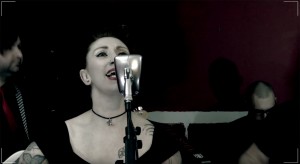 We are all really excited to get this done and to you all as soon as possible! KEPP YOUR EYES OPEN!!!
Leave a Reply